A Head For The Game is at the Mermaid Theatre in the City of London tonight to bring you live updates from the NFL UK Fan Night entitled 'A Night in the Trenches'.
Read the NFL UK article for more info about the night featuring Atlanta Falcons defensive tackle Jonathan Babineaux and Minnesota Vikings offensive lineman John Sullivan.
———
Live Blog (Times in GMT):
Thanks for reading. Remember to keep updated on all the NFL action in the UK by visiting http://www.nfluk.com.
21:30 – The night has finished and Neil Reynolds thanks the packed theatre for coming. Both players are set to return in the foyer to sign autographs for fans.
21:29 – Fan: "What do you think about a possible UK NFL franchise?"
Babineaux: "I think it is going to happen, it is just about logistics so it is not stressful when you travel. As a kid you always dreamt about playing in the NFL in America and now it is global – it is mindblowing."
Sullivan: "In 50 years we will look back at this period and see ourselves as pioneers. It's coming.  Commissioner Goodell will be known as the guy who made the NFL global."
21:27 – Fan: "You talk about the wear and tear on your body – what about the 18 game season?"
Babineaux: "I think eventually it will happen, the pre-season games will be cut down, one thing that will be looked at will be health."
Sullivan: "In terms of total hits, in terms of practise we go full speed all the time. If we got rid of hits in practise and put them in the live games and that is a labour versus capital issue, and the union and the NFL will have to talk about it."
21:26 – Fan: "What's your favourite cheap shot?"
Sullivan: "I don't take cheap shots on people. You can poke and prod with gamesmanship but this is a fraternity and I would never put him in harms way or his family and kids – there's no place for it in the NFL."
21:25 – Fan: "What's the craziest thing you have bought with your money?"
Sullivan: "I have a boat that I am very fond of."
Babineaux: "A house….a big house."
21:24 – Falcons fans: "What are your thoughts when you heard you moving to a 3-4?"
Babineaux: "It was a process we were rolling into from last year, the terminology may change a bit but the structure will stay the same."
21:22 – Fan: "What is the difference between off and on season training?"
Babineaux: "We do a lot more weights off season."
Vikings fan: "How is the move to the new stadium going to affect you?"
Sullivan: "My fiancee and I went to the Caribbean when the new stadium was 70 below with a wind chill, but I am not going to wear sleeves…
Babineaux: "I will!"
Sullivan: "We've just got to do it – that's the way it is. When you get that first hit out of the way it's OK – we'll put up with it."
21:20 – Adrian Peterson fan: "With a new coach is there a long transition period?"
Sullivan: "We all went into Rick Spielman (GM Vikings) and said please keep JD. I am sure I will get on with Coach Turner."
21:19 – Babineaux: "We don't want to hit the player and get a 15-yard penalty. The target is from the chest to the lower abdomen. Your target is moving up and down and left to right and you have to have focus."
21:17 – More fan questions. Steelers fan asks "what is the best way for you guys to get penalties?"
Sullivan: "It's very hard for officials to see defensive holding. I think I got one call like that and it was in 2010. I've been called for about three penalties in my career. A lot goes on in the trenches."
21:14 – Babineaux: "As a defensive lineman we have a clock in our head just like a quarterback does. I'm a guy who can play the whole game at a high rate. Because I am so small I am quick so every now and then I have a guy chasing me around and every now and then I will just rush him and put him on his butt. We try and make sure our opponent is not catching on to our tendencies."
21:11 – Sullivan: "We make calls and adjustments based on what the defense calls us. Our job as offensive linemen is dictated by our coach. We can only do our job."
21:09 – Sullivan: "You have to be able to protect your quarterback if you want to win – that's just the way it is.
"My left hand is my weapon – I will snap and then punch with my left hand. I want to be in a hot position to try and stop the bull rush."
21:05 – Babineaux on the travelling to London: "We will hit the ground running and be part of London. I will go back to Atlanta and tell all my teammates how exciting it will be."
Sullivan: "We flew on a red eye over and I was stuck in a bulkhead seat and armrests that didn't work. So it was great. We went straight to Wembley for a community event and we were like the walking dead. The staff at the Grove were great and it was great to experience the countryside. It was kind of like a normal week."
"I was at an advantage having been over to London before in May. It was our first win of the year so we couldn't ask for any more."
21:03 – Sullivan: "Playing at Wembley was the most amazing experience I have had in this sport. We had Gene Simmons from Kiss singing the 'Star Spangled Banner' (crowd laughs knowingly). There was a singer who sang 'God Save The Queen' and the whole crowd sung along and we can learn a lot about that in the States."
Babineaux: "To see that atmosphere, the fanbase and to see how they are into it. It's going to be a great experience."
21:00 – Neil Reynolds now starting a segment with the players about the NFL International Series in London…cue another video. Showing all the fan engagement and non-match activities.
20:57 – Players back out and audience looking at an NFL Films production of the London games.
20:56 – Fan quiz over now with these sort of questions: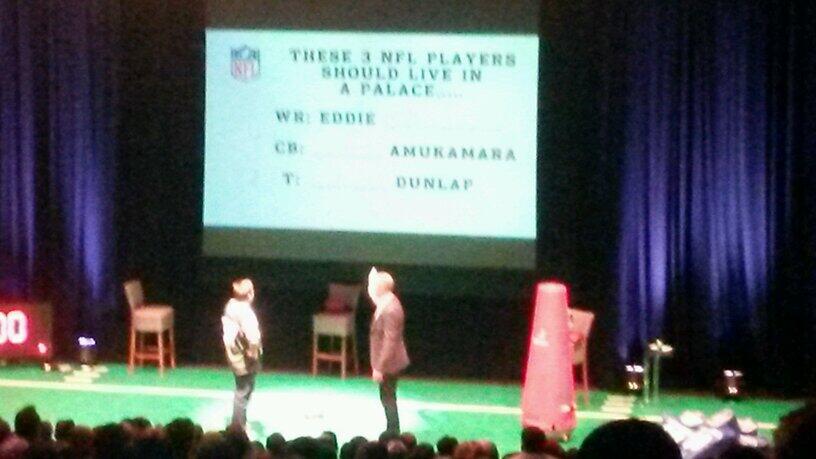 20:51 – Babineaux and Sullivan take a short break and it is competition time for the audience now.
20:49 – Jonathan Babineaux: "In the trenches it is all about the lowest man wins. I would try and stalemate John. It's all about having your hands inside the breast plate (crowd laughs)."
20:46 – John Sullivan is now showing how to block from a snap with a UK Chicago Bears fan called Mike.
Sullivan: "It's all about getting the first step down. I have to have my whole foot off of the ground the whole time. We are trying to get as many as our cleats in the ground to give ourselves as much power as possible to get through the defender."
20:44 – Sullivan: "I want to know the answers to the test before I take it. If you have a guy who generally plays a shade technique and puts his hand down I know what he will be doing – there is a lot you can get from just watching a guy."
20:41 – Sullivan: "I want to be able to load my weight so I can run or block. I will be in an isosceles stance. I want Jonathan to know as little as possible."
Babineaux: "You don't want to put too much weight forward. I am a very good guy at trying to cheat before the play happens. Everybody wants to gain some sort of edge to be successful on a play."
20:40 – Sullivan: "From an offensive perspective it's about attacking the defense and keeping them on their feet."
Babineaux: "As a defensive guy we look at our game as an attitude. We look at an opposition running game as a slap in the face and think 'they think they are just going to run at us."
20:36 – John Sullivan is talking about five and three techniques and how it is good for teams to have players like Babineaux.
20:33 – The first round of fan questions is over and Neil is now looking at the 3-4, 4-3 etc formations.
20:32 – Texan fans: "You are the Texans GM – who do you take first?"
Babineaux: "A quarterback."
Sullivan: "Jadeveon Clowney."
20:31 – Fan: "Any talk about Michael Sam?"
Babineaux: "We welcome anyone in our locker room and we are all there to win the Super Bowl. What a guy does in his personal life is his own business, my personal life is my business as well."
Sullivan: "I applaud him. If he can help us win, I hope he comes to the Minnesota Vikings."
20:29 – 49ers fan: "When did you choose your positions?"
Babineaux: "As my career went along I had many different positions, but started being a D-Tackle in High School."
Sullivan: "I started playing centre in fourth grade (laughs), when I was 13 I was 270 pounds so wasn't allowed to play sport."
20:28 – Vikings fan: "Will you miss the MetroDome?"
Sullivan: "I will miss it – the locker room was horrible. It was a very loud stadium. No-one is looking forward to playing at the TCF Stadium."
20:26 – Chargers fan: "Johnny Manziel – in the NFL?"
Babineaux: "I would definitely kill him"
Sullivan: "The big question is what he does off of the field – hanging out with Drake. He's obviously dynamic – got a Russell Wilson feel to him."
20:24 – Question from a Packers fan: "Do you think both of your teams will make the play-offs this year." Queue laughing from the fans.
Babineaux: "It was tough to swallow missing out. It was a bad experience. I think 2014 will be a big year for us. I am looking forward to coming here and getting at those Lions."
Sullivan: "We lost a bunch of games in the last minute – but that happens to a lot of teams and you have to close games down. The Chiefs are proof of a turnaround. The things that Adrian was doing were incredible. You're never very far away. We re-signed Matt Cassel. We expect to be in the play-offs and we expect to win every game we play."
20:22 – First question of the night from a Giants fan who gets a boo. "If you were in a team that moved to London, how would you feel about that?"
Babineaux: "We play because we love the game. It seems now that the NFL is global."
Sullivan: "I would be incredibly excited. I am interested to see where this sport is going. It is the logical next step to broaden outside of the USA. I told Neil Reynolds after the last fan forum to call me up and I will drop everything to return. I love coming to London – I would be all for it."
20:19 – Neil Reynolds is now discussing with Babineaux and Sullivan about the NFL Combine and their experiences.
Sullivan: "Every injury you have ever had you have an MRI for – at my combine I had open-air MRI's. The teams pulled every joint to make sure there was no problems."
20:14 – Babineaux: "We have a year-round diet."
Sullivan: "You are better off being as healthy as you can be rather than maximising your health."
Babineaux: "I can lose 10 pounds in one practise – I have to make sure I stay healthy."
Sullivan: "You do train more in the off-season – four days a week, the CBA stuff. We will condition on two days. Some teams will split it between upper and lower body. Once the season rolls around we are so beat up I cannot bench press. We'll always work out the day after the game as it is scientifically proven to help recovery – some guys work out the day before a game to look buff!"
20:12 – Babineaux: "We do all the dirty work. It's a hard fought battle in the trenches – a lot of people don't see what we do."
Sullivan: "The centres are mic-ed up for every game. There is a method to our madness – a lot of technique. Everyone is going to get dominated at some point in the NFL."
20:09 – Neil introduces Jonathan Babineaux and John Sullivan to the stage.
"It's nice to be doing this again and to also playing in front of you guys. I really enjoy doing these fan nights."
Sullivan on his Wembley experience: "I got engaged on the Saturday before the game. Some players in that game who have played in the Super Bowl said the atmosphere was comparable to a Super Bowl atmosphere. It was a weekend I will cherish forever."
20:00 – Neil Reynolds enters the stage and starts naming and shaming NFL fans who cannot be at the event tonight and the reasons why.
Neil is now doing a special Sky Sports' 'Neil's News', started off by saying how Minnesota Vikings have solved their quarterback problem and showed a picture of John Sullivan throwing the ball.
19:50 – Stage is set for the event tonight
19:57 – NFL film of the past season starts.